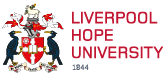 Dance and Sociology BA (with Foundation Year)
UCAS Code: DP23|Duration: 4|Full Time|Both Campuses
UCAS Campus Code: L46
Work placement opportunities|International students can apply
Study Dance in the heart of the city of Liverpool. Dance can be described as a fluid art form. It is constantly changing, exposed to different cultural contexts, bodily histories and physical disciplines, as well as being influenced by political and social movements. This degree aims to explore dance as a living practice and dynamic art form. You will consider how dance throughout eastern and western cultures has been cultivated through traditional training practices as well as more contemporary cultural influences.
Dance at Liverpool Hope looks at the bodies, techniques, performances and histories that make up dance practice today. The dance team are all professional practitioners and active researchers whose specialist skills map onto the diverse areas of dance history, dance technique, site-specific choreography, multicultural dance and somatic practice.
During your studies, you will have the opportunity to work alongside professional visiting choreographers and dance artists. You will perform for public audiences as well as develop a studio practice through one-to-one feedback and group seminars, including regular dance classes and workshops.
Here at Liverpool Hope we actively encourage students to consider their art form as an ethical and embodied practice, where we can confidently claim that dance is crucial to the worlds we decide to make.
Hear from student Frances Shephard about what it's like to study Dance at Hope.
For more details and information about this course visit:
Dance
Contemporary society is becoming ever more complex and the need to understand how it works is increasingly important. Sociology is the study of how society is organised, how this influences the attitudes and behaviour of individuals and the impact this has on social relationships, both within and between societies. Accordingly, sociology is now commonly regarded as an essential discipline for understanding the development of all modern societies. The Sociology degree at Liverpool Hope will help you to think critically and constructively about the key questions relating to modern society.
Our sociology degree is based around a core that provides inputs from social theory and from the comparison of different forms of society. The degree will help you to examine 'common-sense' assumptions about the world by exploring the issues that confront society, both nationally and globally, and by studying the theories and methods that help to explain and understand these issues. It also examines and evaluates the methods of research which make the study of society possible. The degree enables you to study a range of additional topics which cover the whole spectrum of sociological inquiry.
Staff are enthusiastic and dedicated and will help you to get the most out of your degree. In line with Liverpool Hope's commitment to social justice, both nationally and internationally, Sociology attempts to understand social issues and problems that confront the modern world and, in so doing, challenges received wisdom.
For more details and information about this course visit:
Sociology