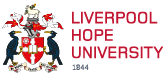 Drama and International Relations BA (with Foundation Year)
UCAS Code: DE21|Duration: 4|Full Time|Both Campuses
UCAS Campus Code: L46
Work placement opportunities|International students can apply
Explore performance in the heart of the city of Liverpool. Learn about the origins of drama and develop your skills in making new work.
Liverpool Hope's creative community is internationally renowned and world-leading in drama research and practice. You will develop your acting skills, your ability to facilitate drama sessions, as well as improving your critical writing skills. We make use of the many theatre venues in Liverpool, from the traditional Everyman/Playhouse to the experimental Tate Liverpool as well as our own Capstone Theatre, several well-equipped studio theatre spaces dedicated for student use, and our very own Hope Theatre Company – of which you could play a part.
Throughout your time at Liverpool Hope, you will be asked to explore drama in relation to your own skills and interests, helping you to understand the critical place of drama in the 21st-century. Our motto is to 'educate in the round', meaning you will develop transferrable social skills to take to future employers and make a difference in the workplace.
For more details and information about this course visit:
Drama
Every day, international issues are in the news headlines – this is your chance to become an expert on relations between states, economies, ideas and societies. In a world where nuclear weapons remain primed for use, the world economy teeters on the brink of collapse and delicate ecosystems are under threat, it is little wonder that our International Relations degree is proving a popular choice among students who wish to better understand the world's most challenging problems.
International Relations is a multidisciplinary subject, which draws in contributions from politics, history, media, sociology, law, economics and religion. Global issues dominate the news headlines on a daily basis and International Relations will allow you to focus on this dimension of politics. This is an opportunity to become an expert in international issues in a historical, political and cultural context.
All our academics are conducting internationally published research. Our key strengths are in Theories of International Relations; Peace and Conflict; British and US foreign policy and EU and UN politics. Our subject deals squarely with some of the most daunting, intractable but important challenges of today.
For more details and information about this course visit:
International Relations