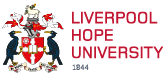 Film & Visual Culture and Philosophy & Ethics BA
UCAS Code: FV05|Duration: 3 years|Full Time|Both Campuses
UCAS Campus Code: L46
Work placement opportunities|International students can apply
If you want an exciting career in the creative industries, but also want to understand the role that Film and Visual Culture plays in wider society, studying at Liverpool Hope is the right choice for you. Film and Visual Culture is an intellectually stimulating degree that combines practice and theory, giving you the opportunity to both create and analyse a range of cultural texts - from fiction film and documentary, to photography and animation.
This degree is underpinned by creative and critical practice. It is creative because it gives you the opportunity to develop practical skills in the fields of screenwriting, filmmaking (drama and documentary), photography and animation. It is critical because it involves the in-depth study of film history and theory, including the way in which cinema intersects with a range of social and political issues. You will graduate with a degree underpinned by academic rigour, but with the transferable skills needed to pursue a wide variety of careers in the creative industries.
The degree is taught by leading international scholars and practitioners and you will also benefit from access to outstanding library resources and an extensive range of practical equipment and studio space. Extra curricula activities support the curriculum by widening critical and creative horizons. Recent activities on the degree include fieldtrips to the National Science and Media Museum, Tate Britain, and the Manchester Animation Festival. We also have regular group visits to local film screenings.
- Study in the most filmed-in city in the country outside London.
- Our local partners include FACT, one of the leading independent cinema venues in the North West.
Hear from student Hannah Guzman Gonzalez on what it's like to study Film & Visual Culture at Hope.
For more details and information about this course visit:
Film & Visual Culture
Philosophy and Ethics explores the big questions of life and morality: on what basis do we judge things good or evil? It challenges you to examine your assumptions, opinions and worldview. Do we need to believe in God for life to have meaning – or have the arguments for the existence of God broken down? What does it mean to be human? Do we have free will, or is our life completely determined?
Through close attention to the primary texts of philosophers such as Plato, Aquinas, Descartes, Hume, Kant and Nietzsche, our Philosophy and Ethics degree will help you learn to analyse and evaluate arguments, and to compose and communicate your own ideas in a reasoned way. You will have a grounding in the foundational questions of philosophy. As you progress, you will look in depth at philosophy of religion, political philosophy, applied ethics and issues of human personhood, artificial intelligence, ecology and animality.
The degree is taught by a core team of critical academics who are passionate about teaching and are internationally recognised researchers and writers. This degree will equip you with the intellectual skills and perspectives needed to face the ethical and ideological challenges of the contemporary world.
For more details and information about this course visit:
Philosophy & Ethics