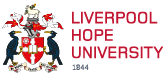 Accommodation
Living in student accommodation at Liverpool Hope is a fantastic way for you to become part of the University's community.
You will be offered support, guidance and, most important of all, the opportunity to make lifelong friendships from day one at your new home. Below, we answer some common questions our students tend to have.
Where are the halls located?
We have 3 accommodation campuses:
Hope Park, the main teaching campus and the hub of the academic, administrative and conference activity of the University, with 8 different halls and 532 rooms in total.
Creative Campus, the second of Liverpool Hope's teaching campuses, with 118 rooms in total.
Aigburth Park, which is a residential-only campus with 427 rooms in total across 2 halls.
Do I have priority as a first year to book in your halls?
All the rooms in our Hope Park halls are reserved for first year students.
The Creative Campus accommodation is for both first year and returning Creative Campus students.
Aigburth Park offers places to first years, returning students, postgrads, international exchange and schools direct students.
Are the rooms en-suite or do I share facilities?
We offer a combination of en-suite and shared facilities rooms. Hope Park and Aigburth Park offers both options, whereas all the rooms in the Creative Campus are en-suite.
What's included?
All our rooms include:
access to a common room
launderette
unlimited internet access
24-hour security
the support of a Resident Tutor
Do the rooms have free Internet access?
Yes, all of our rooms across the 3 locations have unlimited internet access!
What's included in the room?
Most of the study rooms are quite generous in size, with hanging space for clothes and some drawers and shelves.
Your room will have a wash basin or an en-suite shower room (for those with en-suite facilities), plus a desk or work area, a chair and waste bin.
What do I need to bring with me?
You will need to bring your own bedding, towels and toiletries, plus your clothes, which should include a 'smart' outfit for dining-in events (Lounge suit or shirt/tie/smart trousers for men and smart evening dress for ladies).
You can bring a lamp and soft furnishings (excluding curtains) for your room but please note that electrical appliances are strictly limited and must be brand new or have a test certificate from a qualified electrician with them.
When do I need to pay?
In late August, you will be required to make a payment plan for you accommodation. To do this, you need to:
Enter the SRM system through MyHope
Complete the Accommodation task which will be in your intray. This will allow you to tell us how you will pay for your accommodation and set up a payment plan.