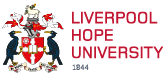 Spaces at Creative Campus
The Capstone Theatre is housed in the modern Capstone Building, adjacent to Angel Field. The building's striking glass facade and columns create a distinct sense of space, inviting guests in to the large foyer area, which houses the Reception and ground floor bar.
The theatre is located over the first and second floors and is a working live performance venue attracting both national and international acts, as well as being used as a teaching space. It has tiered seating along with four small boxes.
The Capstone Theatre can accommodate 260 audience members. Depending on the scale of your performance and audience size, rows of seating can removed to create a larger performance space or more intimate setting.
Equipment
The Capstone Theatre is fully equipped with lighting and audio facilities and technology. Please contact us with any specific requirements you may have and we will be happy to help.