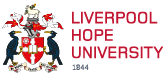 English Language Requirements
If you require a Student Route Visa to study in the UK, you will also have to meet the English language requirements for your study. These requirements are set by the UK Government.
As a Higher Education Institute, Liverpool Hope University can choose how to assess a student's knowledge of English. However, to meet UKVI requirements, all Student Route students must be at CEFR level B2 if you're studying at a degree level or higher.
Any qualifications that would be accepted in lieu of a SELT would need to be studied within an alloted time frame as indicated on the specific pages i.e 2/5 years.
You do not have to prove your knowledge of English if you are a national of, or have completed a qualification equivalent to a UK degree in, one of the countries listed below:
Antigua and Barbuda
Australia
The Bahamas
Barbados
Belize
Dominica
Grenada
Guyana
Ireland
Jamaica
New Zealand
St Kitts and Nevis
St Lucia
St Vincent and the Grenadines
Trinidad and Tobago
UK
USA
You also do not have to prove your knowledge of English if one of the following apply:
you are a national of Canada
you have studied in the UK before as a Tier 4 (Child) student*
you are applying to come to the UK for a study abroad programme as part of a university degree course in the USA
*Please see Student Route guidance for full details
At Liverpool Hope University, we will accept a range of qualifications and English Equivalencies to satisfy both your Academic English Requirements and English for UKVI purposes.
Please see the tabs above for more detailed information regarding: tests, qualifications, country specific information and foundation english entry.
The information on our English Language Requirements webpages should be used for guidance only and we reserve the right to change the evidence we will accept for English Language proficiency.