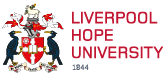 How to apply
We welcome applications from students all over the world and are committed to making the application and admission process as simple as possible. Remember - we are here to help you every step of the way! If you need assistance in any part of your application, please do not hesitate to contact us.
Undergraduate study
Applications for all Undergraduate courses, PGCE courses and the MA Social Work must be made online through the Universities and Colleges Admissions Service (UCAS). We understand that this can be a complicated process, so we encourage you to either contact us or UCAS directly if you are experiencing difficulties with your application.
Key information
Institution Code Name: LHOPE
Institution Code Number: L46
Course codes can be found on our undergraduate course pages.
Postgraduate taught study
International October applications close on Friday 21st of July 2023 5.00 pm UK time.
Applications for most postgraduate taught courses must be made directly to the University. To apply, please download the Postgraduate Application Form.
Once you have completed it, you need to send the form to internationaladmission@hope.ac.uk, along with any supporting documents, including your references, a copy of your passport and your English language qualification. If you have any questions about the application process, please contact us.
Postgraduate research study
Applications for postgraduate research degrees are made directly to the University. Full instructions and application forms are available on our postgraduate research pages.
Study Abroad and Exchange Programmes
Please go to our dedicated pages for these Programmes:
How to Apply for the Study Abroad Programme