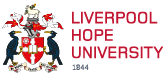 Fees and Funding
We know that choosing to study at a UK university is a big financial commitment. This section contains everything you need to know about the cost of studying at Liverpool Hope University as an international student, plus information about a range of loans and scholarships that may help fund your studies.
Tuition fees
Our undergraduate and postgraduate degrees are priced individually. For details about the cost of our degrees and how you pay, visit our tuition fees page.
Fee status classification
The amount of tuition fees you will need to pay, and any financial support you are eligible for, will depend on whether you are classified as a home or overseas student, otherwise known as your fee status. Liverpool Hope University assess your fee status based on guidelines provided by the Department of Education.
Fee status and assessment
Liverpool Hope University determines the tuition fee status in accordance with UK government legislation – the Education (fees and awards) regulation2007 (statutory Instrument No. 779) states that students who are classified as 'oversees' may be charged a higher level of fee than those classified as home students and these same regulations are applied to all English universities.
Which rate you are charged depends on your nationality, your immigration status in the UK, where you have been living and what you have been doing prior to the start of your course.
If we need further information or documents to determine your fee status then you will be informed by an email from admissions. You will be asked to complete a tuition fee assessment form and provide copies of supporting documentation.
Assessments of fee status are carried out on an individual basis and take into account the circumstances of each applicant. Assessments cannot be carried out until an application for admission has been made.
UKCISA is a national advisory body that provides general guidance on international student issues. More information about fee status assessment is available on the UKCISA website. Please note that UKCISA does not carry out assessments of individual circumstances.
Scholarships
We have a number of scholarships available for international students looking to study at Liverpool Hope University. For full details and eligibility criteria, visit our scholarships page.