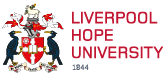 Parking at Creative Campus
There is no student or visitor parking available at the Creative Campus and we recommend that students and visitors use nearby public car parks.
Parking at Q-Park
The nearest car park is Q-Park on Epworth Street. Due to the one-way system, you need to approach the Q-Park via Brunswick Road then Low Hill then Erskine Street (A580), turning left into Epworth Street. The car park is clearly visible. If you arrive in the evening, the entrance of the Q-park may be closed, but if you simply drive up the ramp, the gates will open for you automatically. Visit the Q-Park website for further details and a map.
Considerate parking
The University has the greatest respect for its neighbours and the local community and we strongly encourage all students, staff and visitors to park considerately.
This Police Parking Notice from Merseyside Police highlights the financial penalties for inconsiderate parking.
For deliveries and collections at Creative Campus
Access the Campus via the Haigh Street entrance, off Carver Street. To reach this entrance you should turn left from Shaw Street into Langsdale Street, then left into Salisbury Street, left into Carver Street and finally left into Haigh Street.