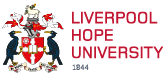 Creative Campus
The Creative Campus is the second of Liverpool Hope's teaching campuses and includes the historic Cornerstone Building, Reading Room, Cornerstone Café, and the The Capstone Theatre.
| Hall of Residence | Room type | Who can stay here |
| --- | --- | --- |
| Gerard Manley Hopkins Hall | 188 en-suite | 1st year undergraduates and returning undergraduates who are studying all or part of their course at the Creative Campus. (We may open up rooms to students who are not studying at this campus after clearing if we have vacancies) |
Location
The campus is situated just outside the city centre and is convenient for all amenities associated with city living, while being away from the main hustle and bustle.
Facilities
Living at Creative Campus, you'll have access to a library, a reading room, an IT lab, a laundrette and various catering outlets. Being so close to the city centre, there's a wide-range of shops, bars and restaurants within walking distance of the campus.
Pictures
Please click here to view some illustrative pictures of the Gerard Manley Hopkins Hall
Within residential accommodation (bedrooms, kitchens, bathrooms and communal area's) items such as fixtures and fittings, colour schemes, furnishings and electrical appliances may differ in colour, quantity and branding. The images displayed are a true indication of our accommodation but please note that any accommodation allocated to you may differ from the advertised images or any accommodation you may have viewed during an open day (for example the room size/layout may be different)