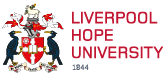 Business Management and Mathematics BA (Hons) (with Foundation Year)
UCAS Code: NG22|Duration: 4 years|Full Time|Hope Park
UCAS Campus Code: L46
Accreditation|Work placement opportunities|International students can apply
The world of Business Management is fast-moving and dynamic: Business organisations are facing unprecedented change and complex challenges both within the UK and globally. This demands that students who enter the business sector understand the dynamics of the business environment and how organisations operate in increasingly uncertain situations. The Business Management degree at Liverpool Hope University examines small to medium-sized enterprises to global multi-national companies – public, private, not-for-profit with a focus on business principles, organisational dynamics and management processes.
Liverpool Hope Business School holds the prestigious AACSB accreditation and has an enviable reputation for developing students with sound theoretical principles, thorough understanding of contemporary business practices and informed by the latest research. The links we have with local and national businesses, plus links with professional bodies, ensure you are well prepared for the world of work.
This in-depth degree gives you the opportunity to understand how businesses operate and the ethical and social impact they have on communities. An experienced, student-focused team will develop your understanding of this business context and develop the critical business skills and transferable skills that future employers will demand.
A unique feature of our Business Management programme is that all second year students take part in the YE (Young Enterprise) programme. This is the integrating element for the second year, which stitches together all the parts of the curriculum. Every student is allocated to a business start-up team, where they work in a group to set up and run a legal new business venture. Thus, it provides students with practical experience of the process of starting a 'real life' business. Many students comment that YE was the favourite and most valuable aspect of their degree in Business Management.
For more details and information about this course visit:
Business Management
Mathematics is a fascinating and exciting subject. It is the language of modern Business and Commerce, Engineering, Science and Technology and is as old as mankind. As the universal language of science it is the best tool we have to describe reality. At Liverpool Hope, you will develop a passion and enthusiasm for mathematics and its applications. Mathematics encompasses many analytical and numerical methods that are used to solve scientific and industrial problems.
Mathematics at Liverpool Hope has been designed to help you develop strong analytical and numerical abilities, and skills so that you learn how to look at problems, break them down into simpler questions and then solve them. Mathematics at Liverpool Hope can be taken as a single honours degree or a combined honours degree with a related subject.
The degree will cover all areas of mathematics including pure mathematics, applied mathematics and statistics. By the end of the degree, you will be confident in tackling real world problems mathematically. By studying with us, you can expect to be given not only first class tuition and teaching, but first class support. We pride ourselves on providing an excellent student experience, and the tutors at Liverpool Hope work hard to ensure that you get the most from your degree.
For more details and information about this course visit:
Mathematics