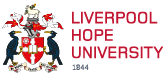 School of Education
Overview
Welcome to the School of Education at Liverpool Hope University. We have a long history in education in Liverpool and the northwest.
We are a teaching institution with research embedded across all of our courses. I invite you to come and meet us at Hope Park, experience life on campus, and feel like you belong here from your first moments with us. We hope that by joining us you will be inspired to become who you want to be and that this will lead you into a career where you can make a difference to the lives of children, their families and wider communities.
We have a range of undergraduate and postgraduate courses in Education, including Early Childhood Studies, Education Studies and Teacher Education. Postgraduate routes to teaching include PGCEs in Primary and Secondary education with a broad range of subjects. Our graduates find employment locally and regionally and following graduation you will join the network of Hope Alumni.
Teacher Education and training has been taking place since 1844. Our history of excellence in Teacher Education can be traced back to our three founding colleges who came together to form the unique ecumenical institution Liverpool Hope University.
We are a School of Education striving for excellence in all that we do, and we have a genuine commitment to your full and rounded education experience.
Professor Cate Carroll-Meehan
Dean of School of Education
Watch Our Video
Latest News