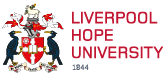 The Hope Education Graduate
At Liverpool Hope University we are dedicated to training teachers who are creative, proactive and reflective. As a Hope Teacher, you will have a moral purpose and an enthusiastic, innovative and flexible approach to teaching the next generation. The Hope Teacher sees their career as a vocation, a way of changing the lives of children and the chance to make a real difference.
The 'Hope Teacher' is a unique feature of all of the programmes offered in the School of Education at Liverpool Hope University. The distinctive and special qualities of our teachers have been identified in our last two Ofsted inspections:
"The 'Hope Teacher', who takes a full part in professional school life and teaches 'with moral purpose, the whole child" (Key Finding, Ofsted Report, Nov. 2012)
"'The Hope tutor' has emerged sharing the same attributes as 'the Hope teacher', particularly resilience, positive outlook and conviction. A shared vision of excellence, effective teamwork and a proactive approach have been key factors" (Ofsted Report, Jan. 2014)
Qualities of a Hope Teacher
We are looking for particular qualities and skills in all of our successful applicants. We want people who believe they can make a difference to the lives of children and young people by striving for excellence in teaching and learning, and by understanding the needs of all pupils.
We are looking for four key learning dispositions in potential Hope Teachers:
Resourceful – can adapt and be flexible
Resilient – can respond positively to setbacks
Reflective – can learn from and build on experience
Reciprocal – can work well with others