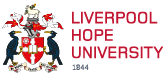 Contact us
Dr Suzanne Moody
Estates
Hope Park
Liverpool
L16 9JD
Working Hours:
Monday - Friday 8.30 to 4.30
0151 291 3248
About us
Liverpool Hope University pursues a path or excellence in scholarship and collegial life without reservation or hesitation, and is well positioned to make a key contribution to the opportunities and challenges presented by Sustainable Development through its teaching; research; through influence on students, staff and communities; through business operations; and through the operation of our campuses.
The opportunities and challenges are considerable, and dealing with these risks requires both technological invention and behavioural changes.
The buildings and gardens across the University support the University's academic ambitions, its community and business engagement programmes. The University places high value on the quality of its buildings and gardens for the well-being of all its staff and students. We will maintain and enhance high quality Estates that are inspiring, aesthetically pleasing, welcoming and accessible, and provide well-equipped teaching and learning space, using the best technological solutions where appropriate.
We seek to encourage our staff and students to create a real community of interaction and engagement on campus, turning academic offices into studies, and student study spaces into vibrant places for learning. The University provides social space and accommodation that encourage a sense of community and self-development. Our garden campuses are safe and secure spaces in which to learn, teach, research, play, and pray.
Strategies, policies and plans