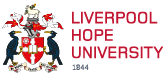 Physical Activity
There is nothing better than putting your running trainers or walking shoes on and getting out in to the fresh air!! Where better to walk/run than on our very own Hope Park campus.
Try our Running & Exercise Circuit Instructions - How it works that you can do in your very own University grounds.
The circuit combines a walking/running route with outdoor exercise stations so you can pick and choose what you want to get involved with and how easy or hard you want to make it, maybe one day you can do the run and the next why not try the exercise stations, variety is key!!
Have a go!