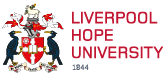 From an ambitious vision to a start-up entrepreneur
"Having experienced life in three different countries, Liverpool Hope feels like home," Nathan Brown started by telling us.
"I was born in Bristol but only lived over in the UK for the first three years of my life. After that, my family moved to France and we lived in Lyon for six years.
"When I was nine, we moved over to Singapore. It was obviously a completely different culture to both of the countries I'd lived in before – and as for the climate...!"
Returning home for university
When the time came to decide on where he wanted to go to university, the decision was a fairly easy one for Nathan. "I felt like university was the perfect opportunity to gain some independence and explore the country that I was born in. My two older brothers also came to study over here, so that definitely influenced my decision.
"When I first saw Liverpool Hope University, it was an instant attraction," he continued. "I loved the facilities available, especially the sports centre and business school.
"In Singapore, I went to quite a small school – I had about 40 people in my year – so the fact that everyone here is so friendly and welcoming kind of made my decision for me."
Settling in
Nathan enrolled as an undergraduate with Liverpool Hope later that year; a change which definitely took a little time to get used to. "It was definitely another culture shock moving back to England. It's just a completely different environment," he said. "Obviously, temperature is a big one but it's more about the way everyone has grown up. Life is more centralised towards one town or city, whereas I haven't grown up like that."
With his parents half way across the world, moving away for university came with its challenges. "It was hard. My parents and I travelled over here in the September when I moved into halls and it was very hard saying goodbye," he said, pointing out that he only sees them over the summer and Christmas breaks.
"You do get used to it though. I was put straight into a flat with four others, so you have people there as soon as you move in. There are also loads of events going on in the halls over the first few weeks, so you get to meet a whole bunch of different people very quickly."
From an ambitious vision to a start-up entrepreneur…
When we spoke to Nathan, he was two years into his Business Management and Sport & Physical Education degree. "We recently had the opportunity to set up our own start-up company with the Young Enterprise Scheme that the university organises," he said.
"This teaches you how to behave in the business world and is a key stage in building experience for your future profession."
Nathan and his team went on to set up Tranquillity, a mental health awareness company. "We host events at schools and universities, as well as selling merchandise. At the moment, we're trying to put things in place so that we can get some more revenue streams, which means that we can give more of a percentage to our partnered charity, Mind, on the Wirral. The more we can give to them, the more they'll be able to increase their facilities for their community."
Taking on the world
From France, to Singapore, to England, Nathan wants to keep travelling after his degree. "I feel really fortunate to have experienced life in three different countries, they are all so completely different and it's been amazing. But I don't think I'm finished yet – once I've finished my degree I think I will move abroad again," he said.
"I love living in Liverpool and know I'll always have a home here, but I'm used to moving around and would love to see more of the world.