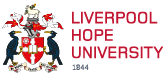 From university dream to winning team
"At Hope, everyone's there for you," Ruth Burke said as she reflected on her time with us. "There's such a tight knit community here, so you have a support system around you from day one."
'Stepping stone into city life'
Originally from Derry, Ireland, the community at Hope helped to make the move easier for Ruth. "Hope has been a great stepping stone into city life," she started. "Back in Derry, I live in the country, so moving to a bigger city like London or Manchester would have been completely out of my comfort zone."
"That sounds so country," she added with a laugh, "but it's true! I soon got used to living over here, to the extent that when I go home, I can't wait to come back to Hope, and to Liverpool."
A reason for which soon becomes apparent as we go on to talk about her involvement in the girls' Gaelic football team at Hope. "I've always been involved in the sport, so it felt like a natural choice for me to join the team in my first year."
A winning team
"There are about 35 players on the girls' team, and 40 on the boys, so it really does feel like a little Irish community at the university," she continued. "We host a load of fundraisers together and socialise at the weekends, it's really great."
Having recently won the British Division 1 Championship when we spoke to Ruth, the girls' team was stronger than ever. "It's definitely one of my favourite memories at Hope," she said. "There were photos of us on Facebook with flames behind us, so it really helped to build up the excitement about who was going to take the Championship. And you get to spend the whole week with your team mates, playing and partying, so the whole thing helped to bring the girls closer together."
Mastering her studies
With four years under her belt at Hope, when we spoke to Ruth she was nearing the end of her Masters in Performance. "My lecturers have been great. You're given an individual tutor to discuss your practice with and the fact that the tutors call us artists rather than students is a really great aspect of my course.
"I think that it shows that they take you seriously as performers, rather than looking at you as just a student."
In her final year of studying, Ruth took the opportunity to get involved further in the Hope community. "I decided to become a Senior Resident Tutor for one of the student halls of residence at Hope Park," she said.
In this role, Ruth lived in student halls with the new first year students, offering support and guidance to those who were moving away from home for the first time. She said of her role, "I've loved it as it's given me a chance to get to know and be a source of support for the first year students."
Friends for life
With Ruth preparing to delve into the working world, she knows that Hope will remain a big part of who she is. "Once you're at Hope, it's so hard to leave. Being from Ireland, it was important for me not to feel overwhelmed in a new city and the tight knit community at Hope made that move a lot easier," she said.
"I'm really content where I am and I think that no matter where you're from, it's great to come to Hope where you know that you'll make friends for life."