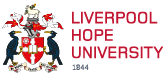 Study with us
The Department of Psychology offers a range of undergraduate and postgraduate degrees. Click on an image below to find out more about our courses.
Undergraduate degrees

Psychologists investigate how people perceive the world, structure their thinking, solve problems, interact with other people and much more. Concepts such as perception, cognition, personality and social behaviour are all central building blocks of the psychological theories that you will study at Liverpool Hope as part of your Psychology degree.

Our Sport Psychology degree is firmly embedded in both the disciplines of Psychology and Sport & Exercise Science. This approach allows you to study important psychological theory and apply this to a variety of sport and exercise settings.
Postgraduate degrees
Liverpool Hope MSc Psychology is designed as a conversion course and is accredited by the British Psychological Society. It offers graduates from other subjects the opportunity to start a new career in Psychology.