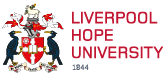 Estates
The Estates team supports the University's strategy of delivering top-quality research informed teaching.
Estates are responsible for providing a wide range of essential services effectively managing, maintaining and developing the University's buildings and grounds. These services make a significant contribution to the University and the student experience.
The University Estate has recently undergone an intensive period of development in line with the University Strategy. At present, current capital works projects include the construction of the InQuiry, or 'IQ', Building at Hope Park with an associated cost - for the build alone - of £6 million. This building is focused on student learning.
In addition, there is redevelopment work taking place at the Creative Campus to create a 'Motion Picture Factory'. The first floor will be designed for film and TV teaching, replete with a sound system, lighting rigs and cameras. The ground floor studios will also be used for film and TV but will also enjoy technology that is 'transferrable' for students in other creative disciplines - including a black box studio with motion capture capability as well as cutting edge surround sound.
Find us at: Estates Office, Hope Park Campus
Key contact: Estates Helpdesk
T: 0151 291 3185