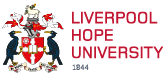 Learning and Teaching at Hope
The Learning and Teaching team works with staff to develop and promote best practice in learning and teaching, which inspires our students to achieve their full academic potential.
Learning and Teaching works in partnership, supporting and encouraging collaboration within and between academic departments, developing innovations, researching best practice, and leading and facilitating initiatives that allow the sharing of ideas and practice.
Our key roles are:
Working with colleagues across the university to achieve the pedagogical goals set out in the Learning, Teaching and Assessment Strategy;
Providing continuing professional staff development for colleagues who teach and support the learning of students including through the PGCert in Learning and Teaching in HE and other training workshops;
Developing policies for learning and teaching and providing guidance on these to colleagues in the departments;
Supporting the development and approval of new programmes via co-design events;
Encouraging and sharing innovative practice in teaching and supporting learning through our network of Communities of Practice and Learning and Teaching Day events.
Learning and Teaching at Liverpool Hope is underpinned from three different perspectives:
The formal University system that oversees process, enhancement and quality assurance (the committee structure and other systems);
The PLD programme; and
The Communities of Practice Network.
For further details about Learning and Teaching at Liverpool Hope, please email the Learning and Teaching team at learningandteaching@hope.ac.uk.