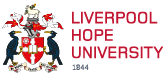 Awards and Bursaries
Each year the School are awarded a number of bursaries from Government to support social work students on BA and MA programmes. The numbers of awards varies each year but these are available to BA 2 and 3 and MA 1 and 2 students who are 'normally resident in England'. The School nominates students each year, but the administration and final award decisions are taken by the awarding agency. Here you can find details of the current bursaries and awards available within the School of Social Science
HOLT Bursaries
The University, in partnership with HOLT Education Trust, are able to provide a limited number of student bursaries. To be eligible to recieve funding, students must meet certain criteria.
For further information, please contact socialscience@hope.ac.uk
The Franki Byron-Chance Memorial Award for Commitment to Social Work for Social Justice
Franki studied MA Social Work at Liverpool Hope, graduating in January 2013. She was a student activist, involved in a range of social movements. Following graduation, Franki moved to Brighton and worked in the field of mental health. In the summer of 2018 Franki took her own life.
This annual student prize will be awarded to a completing BA or MA student who best reflects the values of social work for social justice, something we are really passionate about at the School of Social Sciences and was so central to Franki's life.
The 2019 award went to Marian Morton, who studied BA Social Work.