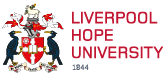 Getting started
Welcome to Liverpool Hope University. If you are a new member of staff or have joined us as a student, this page tells you everything you need to know about getting started.
Where can I find a PC?
There are Open Access PCs in many locations around the three campuses.
Does the University have its own Wireless service?
Yes - the University uses the eduroam service. Click here for further details.
What are my responsibilities?
Whenever you logon to the University network, you agree to:
Use the service in a responsible, ethical and lawful manner
Not do anything which might be to the detriment of other users
If I am using a University machine, how do I save my work?
There are two options:
On your personal I: drive
On a USB memory stick
NB: Please be aware that if you save any work on the C: drive of the machine (e.g. in My Documents), this will be irretrievably lost when the machine is logged out.
Where can I print?
There are a number of printers across all three campuses. Please see our printing page for further details.
How do I add print credits? (Students Only)
What do I do if I have forgotten my Password?
Click on the Forgotten Password link in the MyHope login box
It will ask you for your email address
It will then ask you to answer two security questions
You will then be able to input a new password which will come into effect within a couple of minutes
If you encounter any difficulties with this, please contact the IT Services Help Point.
Who do I talk to if I have a problem?
If you cannot access an IT service – contact us
If your student record is incorrect – contact Student Administration
If you have financial issues - contact Student Finance
If you have issues with accessing academic content – contact your School / Department
How do I contact IT Services?
In person: visit IT Services Help Point, 1st floor in the Sheppard-Worlock Library (Monday – Friday 8am – 5pm)
Email: itshelp@hope.ac.uk
Phone: 0151 291 2100