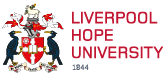 HopeUni App
The HopeUni App allows students easy access to information on your mobile device including:
Your academic timetable
Your print credit balance
Your attendance record
Currently, the App is available for Apple and Android mobile devices. You can download it by searching for HopeUni in the appropriate App store.
In order for you to access the App, you will need to log in initially using your University username and password. Whenever you change your network password, you must ensure that you change the password on the App. You can do this by clicking the logout button on the top right of the app and then logging in using your new password.