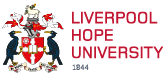 Study with us
School of Health and Sport Sciences offers a range of high quality undergraduate and postgraduate degrees. Click an image below to find out more about our courses.
Undergraduate degrees

Human Biology is an ever-evolving branch of science that includes the study of the human body, the changes that occur in disease, and the interaction between humans and their environment. With this in mind, the Human Biology curriculum has been designed to provide a contemporary and dynamic programme to challenge students across a broad base, but with depth in areas of staff specialisms.

The Nutrition degree at Liverpool Hope has been designed to develop the essential knowledge, understanding and skills that a nutritionist requires. The curriculum includes a focus on the delivery of five core competencies in nutritional science, food chain, social and behaviour sciences, health and well-being, and professional conduct. Our Single Honours BSc Nutrition degree is accredited by the Association for Nutrition (AfN). This means that once you graduate, you are eligible to apply directly for registration as a registered Associate Nutritionist.
Find out more in our Food and Nutritional Sciences guide

Sport and Exercise Science is the study of how the human body responds during exercise, how it adapts to exercise training, and the study of the relationship between exercise and health. Our degree curriculum encompasses everything from elite sports performance to clinical populations and we take an interdisciplinary approach to the study of Sport and Exercise Science.

Our Sport and Physical Education degree helps you gain in-depth knowledge about the effect of sport, physical education and activity on individuals and society as a whole. The degree will allow you to explore the impact of sport at the individual, team, organisational and wider community level, from grass roots through to the elite.

Our Sport Psychology degree is firmly embedded in both the disciplines of Psychology and Sport & Exercise Science. This approach allows you to study important psychological theory and apply this to a variety of sport and exercise settings.

Our Sport Rehabilitation course provides you with the theoretical knowledge and a broad range of applied skills required for undertaking the role of a sport rehabilitation professional. Throughout the degree you will learn to improve health and function in populations with injury, illness and disease and to positively contribute to improving public health.
The global sports industry is dynamic and growing. The industry has many sectors, including: properties (leagues, teams, athletes), rights (media and marketing rights), mega-events and content packaging (branding, sponsorship, broadcasting). Through our BA Sports Management course you will study these areas in great depth and gain the skills you need for a career in this exciting industry.
Postgraduate degrees

Our Sport and Exercise Science (MRes) will provide you with a comprehensive experience of the research domain whilst developing specific technical competencies and applied skills in the core disciplines of biomechanics, physiology and psychology (including motor control).
MRes Food & Nutritional Sciences
Our Food and Nutritional Sciences (MRes) provides training in research methodologies and wider skills required for those who want to pursue a research-focused career. This will develop students' potential career opportunities including Public Health Nutrition, Food Business or further study (e.g. PhD).

The MSc in Sports Medicine, Exercise and Health based at the Liverpool Hope University is designed to provide you with a broad understanding of sports and exercise medicine, principles of musculoskeletal injury management and rehabilitation, the vital role of physical activity in promoting health and prevention of musculoskeletal and chronic disease, and fundamental aspects of exercise physiology linked to clinical conditions. This will develop students' future career potential in many areas including elite sports, sports and musculoskeletal clinics, exercise medicine and exercise prescription services, public health, and NHS services.
PG Cert Sport Management
The Postgraduate Certificate in Sport Management offers you the opportunity to gain the necessary skills to take up employment opportunities in the expanding sports industry. Sport as an economic and social activity is growing globally and, with that, the demand for sport management professionals has increased.