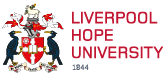 Facilities
Housed in the state-of-the-art Health Sciences Building, the School features specialist laboratory spaces dedicated to nutrition, cell biology, sport and exercise science. Investments in indoor and outdoor sport facilities, including a fitness suite, strength & conditioning suite, 3G football pitch, tennis courts, rugby pitch and onsite Physiotherapy and Sport Rehabilitation Clinic, ensure that students have access to first-rate research and learning facilities.
View a full gallery of images of the new building and its launch event on our Flickr album.
An important building for Hope
Professor Gerald Pillay, Vice-Chancellor & Rector of Liverpool Hope University said: "We have a long term commitment to STEM subjects, and this building is a major part of that. We are producing cutting edge research and we hope that the new building will allow us to produce even more.
"Our vision is to create an inspiring and stimulating space for students and research staff, where they will be able to carry out all of their work under one roof, with a strong emphasis on collaboration. Much of the interior will be glazed, so that students will see activity and research taking place all the time."
Professor Atulya Nagar, Dean of Science at Liverpool Hope University added: "We have a commitment to producing global citizens whose work makes a positive impact on the world around us. The new building will provide our students with the very best start to their science careers and give them the tools to pursue their own research. We also hope that it will attract even more world-leading research staff, allowing us to make an even greater impact on businesses, technology, public services and communities across the region, the UK and the world."
Lord Mayor of Liverpool Cllr Erica Kemp, who attended one of Liverpool Hope's founding colleges and was at the ground-breaking ceremony for the project, said: "As a former student of Christ's College I am delighted to see the many wonderful changes that have taken place over the years. I wish Liverpool Hope and the students every success for the future."
Gary Hughes, regional director at GRAHAM Construction, said: "Liverpool Hope University is an innovative and forward-thinking institution and this new building will be a state-of-the-art centre for exciting scientific studies.
"The university recognised the quality, vision and ability of GRAHAM to deliver – to be playing a key part in this development is of great pride and we look forward to working in collaboration with the university and our project partners."