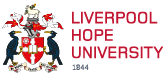 Accredited courses
The Department of Geography and Environmental Science is proud to offer a wide range of accredited courses.

Liverpool Hope University is one of just two North West universities and twelve universities nationally to gain prestigious professional accreditation from CIEEM.
CIEEM are the leading professional membership body representing and supporting ecologists and environmental managers in the UK, Ireland and abroad. Their vision is of a healthy natural environment for the benefit of current and future generations.
Students on Liverpool Hope's BSc Environmental Science and MSc Ecology and Environmental Management courses will have the opportunity to attend relevant CIEEM events, meet practising ecologists and environmental managers and access careers advice from typical employers within the sector.
They will also benefit from access to the Chartered Institute of Ecology and Environment Management's network of leading practitioners within the profession and links with the local member network group.
Students are entitled to apply for CIEEM Student Membership and Graduate membership after sucessful completion of their degree and use of the letters GradCIEEM after their name.
Rev. Paul Rooney, Head of Geography and Environmental Science at Liverpool Hope University said: "Chartered Institute of Ecology and Environment Management accreditation provides excellent additional value for our students and unique opportunities to make connections with graduate employers. It also opens up more routes for networking and research, and will allow our students to really immerse themselves in their discipline."

The Royal Geographical Society (with IBG) are the UK's learned society and professional body for Geography, supporting geography and geographers across the world.
Our BSc Geography degree is accredited by the Royal Geographical Society (with IBG). Accredited degree programmes contain a solid academic foundation in geographical knowledge and skills, and prepare graduates to address the needs of the world beyond higher education. The accreditation criteria require evidence that graduates from accredited programmes meet defined sets of learning outcomes, including subject knowledge, technical ability and transferable skills.
Our BSc Tourism Management,Tourism and BA Environmental Change & Tourism organisation for practitioners working in tourism destination management across the UK, Europe and worldwide. Members include public and private sector organisations, from entry level to experienced practitioners. TMI supports their members by providing platforms and opportunities for knowledge sharing and being a voice for destination management.

Students will benefit from the support, knowledge and networks available via TMI accreditation. It provides a valuable addition to enhance our teaching provision and ensure that curriculum content will remain current and forward-looking.