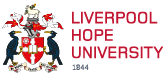 Interviews and Auditions Guide
Introduction
We are thrilled that you've applied for one of our courses. The next stage is the Interview and Audition process. The majority of our Undergraduate Courses at Liverpool Hope's Creative Campus requires an interview, an audition or, in some, cases both, following application. This section provides all you need to know to enable you to prepare for your interview/audition and will provide you with a course specific guide on what can be expected before, during and after the process.
Interviews and auditions can be both exciting and nerve-wracking experiences. We are here to support you and provide you with as much information as possible in advance to help make the experience as smooth and as stress-free as possible.
Once we have received your application, it will be checked by our Admissions team to ensure you meet our entry requirements for the course you've applied for. If you are successful at this stage, you will be invited for an interview/audition. Our invitation for interview/audition will arrive by e-mail. You will be asked to book a date and time from a selection of available options.
How to prepare for your Interview/Audition
Interviews and auditions generally take place between October and March, although some may fall later in the cycle. You will be sent an email inviting you for interview/audition and asking you to choose from an available date and time. Once you have done this, you will receive a confirmation e-mail and any other relevant information ahead of your interview or audition.
Before your interview/audition, spend some time compiling your portfolio or preparing for your performance by regular practise of your musical pieces with an accompanist or rehearsing your performance, or practising speaking about your Visual Art, Graphic Design or Film works, so you feel confident performing to the panel. One example could be setting up a practice or mock interview/audition with a friend or family member. Research the piece(s) you will perform or present, so you can talk about them in an informed way. If you are using equipment/instruments on the day, please ensure that you have enough time for set-up and have checked them prior to your time slot.
It is not uncommon to feel nervous before an interview or audition. Please be assured that the University is a friendly and welcoming place and our academic staff and panels are experienced and fully supportive. If nerves do get the better of you and your interview/audition doesn't go as planned or is not flawless, please do not worry. It doesn't mean it's over. Our team are trained to spot raw talent, so if you've got what it takes to do well on our course they'll be able to see your potential. Similarly, if the panel feels that a little more development is required we will advise you of the best routes which may include our Foundation Year of study. It is in everybody's interests to be clear about what is required in order to undertake successful and fulfilling study at Degree level.
What happens on the day?
Most interviews/auditions will take place via Zoom whilst the government advice on social distancing remains in place. Some applicants will complete entirely recorded auditions and only be invited for a 'live' interview if programme leaders have specific follow-on questions. Please see the course specific guidance below for further details.
If you have confirmed your interview time, you will be provided with a Zoom link in advance of your interview/audition. Please be ready 15 minutes before your interview/audition with any materials and/or instruments that you will require (please see individual Subject Course Guides below).
Interviews/auditions can take up to 30 minutes depending on your chosen subject. At the beginning you will be welcomed and introduced to the interviewer or the interview panel. The whole interview/audition experience may take up to two hours in total, potentially including a performance, and/or workshop experience and a virtual tour of the campus and facilities. Please see Course Specific Guides below for further information.
A virtual tour of the Creative Campus will be available for you to join via Zoom on the day of your interview/audition. This will provide the opportunity of viewing the campus where you will study, as well as showcase all the amazing facilities we have available to you to support you with your studies. You will also hear from a current student or an alumnus of the course you have applied for, so you can hear first hand about the course and what it's really like to study at Hope.
Take the Spotlight
The audition or interview process is designed to enable our team to find out about you. It is not just about how accomplished you are, but what sort of person you are. We want to provide you with the opportunity to demonstrate your creative and/or performance skills and impress us in support of your application. We will also take time to discuss with you your interests and ambitions and your goals for the future.
Please remember that we are genuinely interested in your talents, whatever they may be, and we want you to feel as prepared, confident and as comfortable as possible. Please try to relax and just be yourself. We want to see the real you!
Looking for Ways to Say Yes
We are very clear about the purpose of an interview/audition. We are 'Looking for Ways to say Yes'. What we mean by this is our interviews and auditions are a time to focus on what you CAN do not what you CAN'T do.
Applicants should not perceive the audition process as you are being judged and scrutinised, which we know can make you feel very apprehensive, rather the audition is a two-way process to find the best study option for you. We have been in your shoes ourselves. The outcome is not simply 'success' or 'failure'. Our tutors will listen to you and what you want to achieve. There are alternatives and it is not the end of the road if you fall short in the audition. We want to match your skills to our courses. We want to engage with you.
We don't want our applicants to come away from an interview or audition feeling like there is no hope and feeling that they will not be able to pursue their dream career in Music, or another Creative subject. If you are prepared to listen to our feedback and consider your options, we may be able to open other doors for you.
Interview/Audition Dress Code
The dress code is smart but comfortable. Wear clothing which will not restrict your movement if performing.
Interview/Audition Outcome
It is very common to leave an audition or interview and immediately think of something you forgot to ask. If this happens, don't panic and don't be afraid to contact the team to ask those questions. Admissions offices are there to help you through the application process and will respond to your queries as soon as they can.
Liverpool Hope University expects to communicate all offers/decisions to applicants as soon as possible and within 48 hours of interview. However, some of these offers may be made subject to conditions criteria that will need to be met. Our decision will be communicated to you by e-mail.
In all cases the admissions decisions will be made by reference to the published entry requirements available on the UCAS course information pages, together with the selection criteria as detailed in our course specific guidance here on our website.
We wish our applicants the very best of luck in their interviews/auditions and we are very much looking forward to meeting you and seeing what new talent and ideas you can bring to Hope.
Contact Us
If you have any questions or would like advice about any aspect of the interview/audition process, please contact our Admissions Team.
T: 0151 291 3899