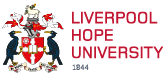 Family Friendly Workplace
We are committed to being a family friendly workplace. Below are a list of options available for parents.
Corporate Childcare Vouchers
Employer-Supported Childcare
Childcare Vouchers are an extremely flexible way to save money on the cost of your childcare and make it easier for you to afford quality childcare of your choosing. Liverpool Hope's Childcare Voucher Scheme will be available through Edenred Childcare Voucher Scheme from March 2017. This scheme is open to new entrants (subject to eligibility) until October 2018.

If you wish to join the above scheme, please contact Personnel on 0151 291 3189 for the Scheme ID number.
Tax-Free Childcare
Tax-free Childcare was launched by the Government in early 2017. You are advised to consider, whether you are eligible for either scheme and which one is most appropriate for your needs. This can be dependent upon your family and work commitments, as well as your childcare costs and income. This scheme will be rolled out gradually to families, with parents of the youngest children able to apply first. Further information can be obtained by clicking on the following links:


Useful Links:

https://www.gov.uk/childcare-vouchers-better-off-calculator

Ten things to know about the new Tax-Free Childcare scheme - (GOV.UK).
Leave
Social