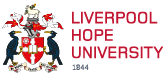 Personnel
The Personnel Department at Liverpool Hope is committed to developing and supporting a workplace environment that attracts, develops and retains top quality staff who are fully committed to the aims of our unique and vibrant university.
The team provide a professional advice and guidance service that:
delivers effective recruitment and staffing solutions
supports a motivated workforce through opportunity, professional development and pay and reward
embraces diversity
ensures ongoing achievement through effective performance management
This web site is designed to provide up to date information and guidance to managers and staff to support both individual and managerial needs. If you need further information, please contact us.
Andy Catterall
Director of Personnel
About Us
Useful Links
International Staff Information
COVID-19 Mental Health Resources
Staff Facilities
Equality, Diversity and Inclusion at Liverpool Hope University
Terms and Conditions