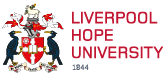 Sexual Misconduct
Consistent with its Values and Mission, Liverpool Hope University seeks to be a community where its members, treat each other with dignity, courtesy and respect, and where we value each individual's contribution.
Sexual Misconduct
The University condemns all forms of sexual misconduct and harassment and is committed to providing a safe and supportive environment that is conducive to the academic, social and personal development of staff at Hope.
The University strives to encourage a culture of respect, and create a Hope community that does not tolerate, and feels comfortable, challenging and reporting all forms of sexual misconduct and harassment.
This document outlines the process for responding to and handling allegations of sexual misconduct.
The terms used in this procedure are as follows:
The Reporting Party is the person(s) who has been subject of the alleged incident of sexual misconduct.
The Responding Party is the person(s) whose behaviour it is alleged amounted to sexual misconduct.
A 'Disclosure' means that an individual tells a member of University staff that they have experienced sexual misconduct. A disclosure is not the same as a report. These are separate actions that the Reporting Party may choose to take.
A 'Formal Complaint' to the University regarding an individual's experience of sexual misconduct is an instruction for the University to take appropriate action. The complaint will allow the University to investigate the misconduct.
Related Policies
Dignity at Work and Study Policy
Policy and Process for Handling Sexual Misconduct